The girls have been sporting the cutest braided looks to keep their hair protected and stylish in this summer's heat. Of course, we love everything about this, but we wanted to share some of our favorites. You see any you plan to create?
Box braids (https://www.pinterest.com/pin/625226360782846613/)
Ahh. The classic protective style, box braids. The name of this style comes from the clean, neat box-shaped parts that are created when starting each braid. The sizes of box braids go from jumbo to micro, with several creative variations in between. The versatility of box braid styles does not go unnoticed, with new trending styles being created around them season to season. Box braids don't seem to ever go out of style. No complaints here!
Knotless braids (https://www.pinterest.com/pin/801288958715263161/)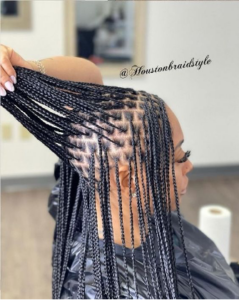 We saw the rise of knotless braids in 2020 during the pandemic and it affirms that great things come out of bad situations. Knotless braids, given their name due to the lack of the knot that starts the braid, are very popular with the girlies nowadays due to their lightweight, low tension feel. Contrary to box braids, knotless braids are fed in with one's natural hair, allowing for a pain free braiding experience. They also have a natural straight from the scalp look, and who doesn't love that, right?
Goddess box braids (https://www.pinterest.com/pin/648448046361158627/)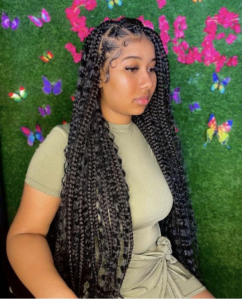 Remember earlier when we mentioned how box braids have so many creative variations? Meet the goddess box braids. Box braids with a little twist, or curl, we should say. This style consists of traditional box braids of any size, with curls added/intertwined with the braid or at the ends, or both! This can be done using synthetic kanekalon fiber hair but people also opt for human hair for a longer lasting look. Gorgeous right?
Feed in/straight back Stitch braids (https://www.pinterest.com/pin/6685099437798164/)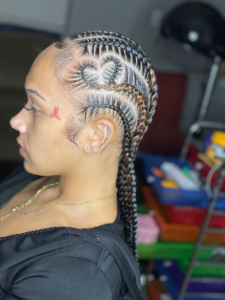 A nice and super detailed spin on traditional cornrows, low and behold the straight back stitch braids. The name is plain to see from how the hair is so seamlessly stitched to the scalp. They say this style isn't big head flattering or friendly, but we beg to differ! It looks lovely on just about everyone who tries it. We've seen this style with the added heart detail for flare and it's such a nice touch.
Locs (different variations) (https://www.pinterest.com/pin/410742428526757908/)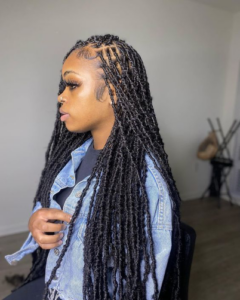 Soft locs, faux locs, distressed locs. There are so many names/variations for this style but we know for sure that it is LOC'd in for the protective style summer girlies. Long or short, this style is perfect for those long days at the pool or the beach.
While drawing inspiration from the styles above for your next do, don't forget to ask for CELEBRAID & Laude & CO. Nu Locs at your local beauty supply store to complete your looks.